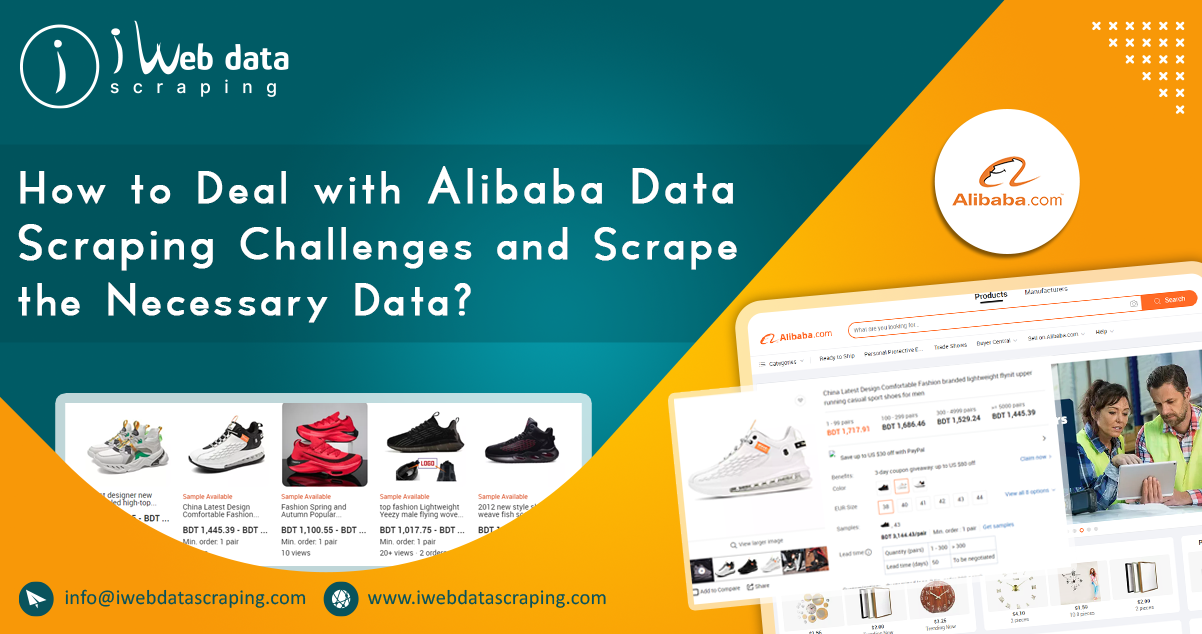 Alibaba is a marketplace involving businesses and manufacturers. As a top wholesale platform, this is also a shared data source for online entrepreneurs. Therefore, Alibaba product data scraping is used to find suppliers, monitor stock and prices, prepare product catalogs, and more.
In this blog, we'll undergo the data types which can be extracted from Alibaba and procedures to search applicable data. Similarly, we'll share tips about making a well-structured file for your particular task.
Challenges with Scraping Alibaba Data
The market belongs to the Alibaba group. With all the sites of Alibaba group, the market is known for its severe anti-scraping measures like:
CAPTCHA
Changing the website's markup frequently
IP blocking in case a crawler is identified as a bot
iWeb Data Scraping is the data extraction service that deals with all these challenges. We scrape data from Alibaba per your needs and offer ready-to-use files.
Which seller and product details could be scraped from Alibaba?
iWeb Data Scraping can scrape any data on the page you get in the browser. The bot will automatically click links and buttons to increase drop-downs, follow subpages, and open pop-ups for scraping data from them. Let's understand this with a sample of extracted product, "Women's Rain jacket," having all the accessible details: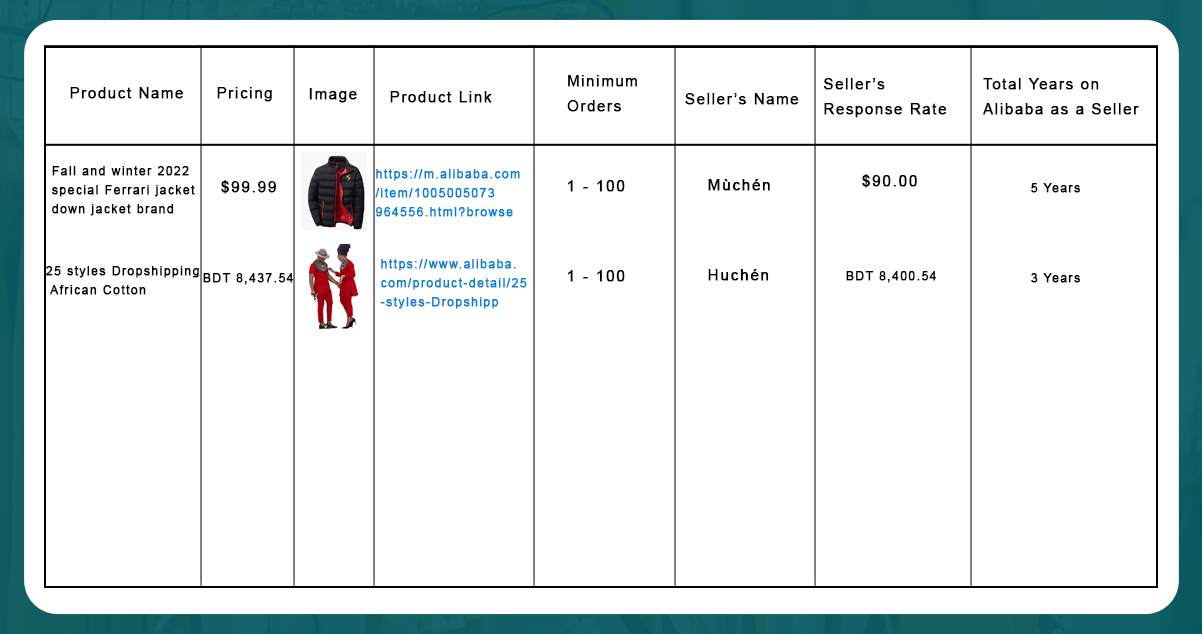 If you need any particular fields, you could list them with the order form:
Product Name
Pricing
Image
Product Link
Minimum Orders
Seller's Name
Seller's Response Rate
Total Years on Alibaba as a Seller
In which formats Alibaba extracted data can be offered?
The Alibaba data scraping service of iWeb Data Scraping makes data in a format that best suits your needs. Therefore, you might want to have data in Google Sheets of a plain CSV file to analyze the extracted product details supplier. While if you plan to import extracted Alibaba data, you might want a file formatted for particular shopping requirements.
To have an eCommerce-friendly data format for shopping carts like WooCommerce, PrestaShop, Shopify, or Magento, specify that in your order form. This file will be custom-made for your shopping cart and get all the essential fields for seamless import. Let's take an example of a WooCommerce products file: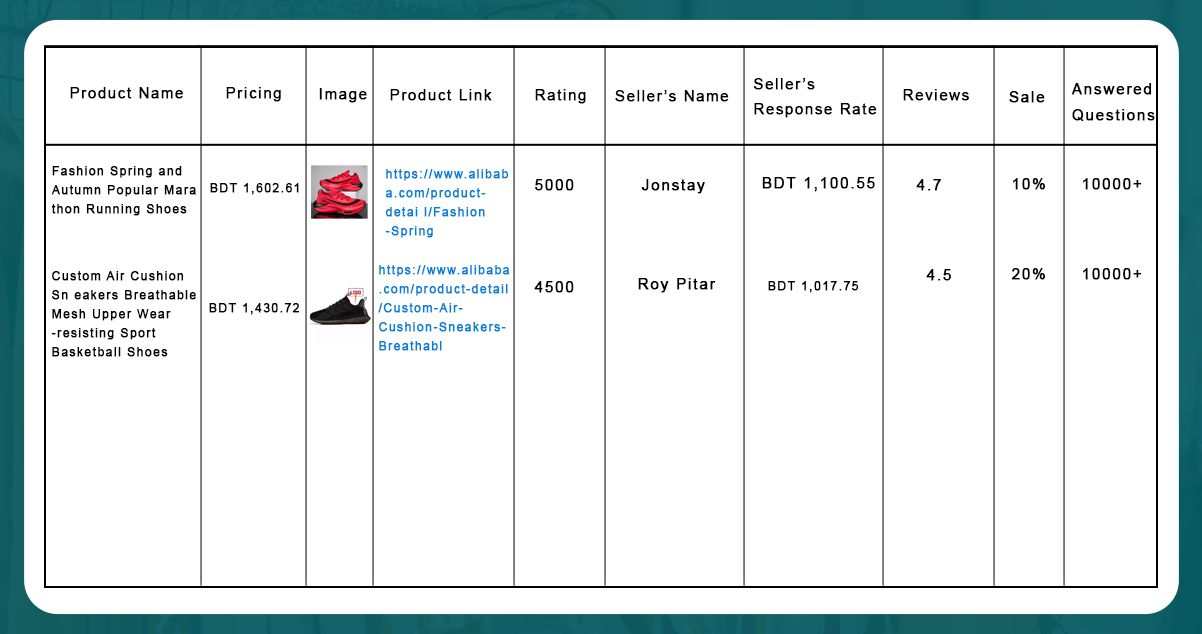 You may import the acknowledged file directly into your online store for making or updating products.
How to explore Alibaba for scraped data?
You might do many kinds of searches as per your job:
By Company: Enter a complete company name and get the suppliers you are involved in.
By keyword or product: Enter a product idea in the search field.
By supplier: In case you have some manufacturers in mind, enter the complete factory name.
When doing the research, copy a URL from the browser and paste that into a request form.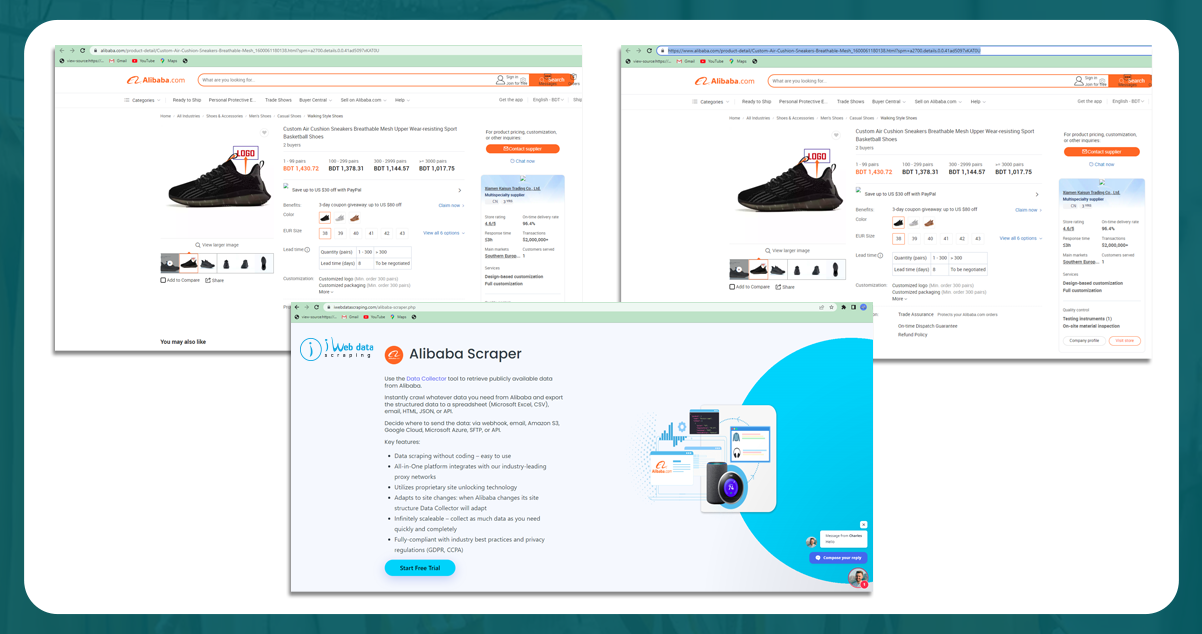 How to do data extraction from Alibaba.com
Ask for a free test file. In this form, list the fields you want, and offer the URL, keywords, sellers, or category to scrape data from. Indicate file formats and email for which a file needs to be sent.
You will get an email having an attached file when your email scraping gets completed. Review a sample file and inform us if you need any changes.
After approving the file format, we'll send a quote to help you choose a suitable pricing plan.
After making the payment, you'll get a complete list through email, Google Sheets, or FTP.
For more details about scraping Alibaba data, contact iWeb Data Scraping or ask for a free quote! You can also contact us for all your web scraping service and mobile app scraping requirements.
KNOW MORE : https://www.iwebdatascraping.com/how-to-deal-with-Alibaba-data-scraping-challenges-and-scrape-the-necessary-data.php